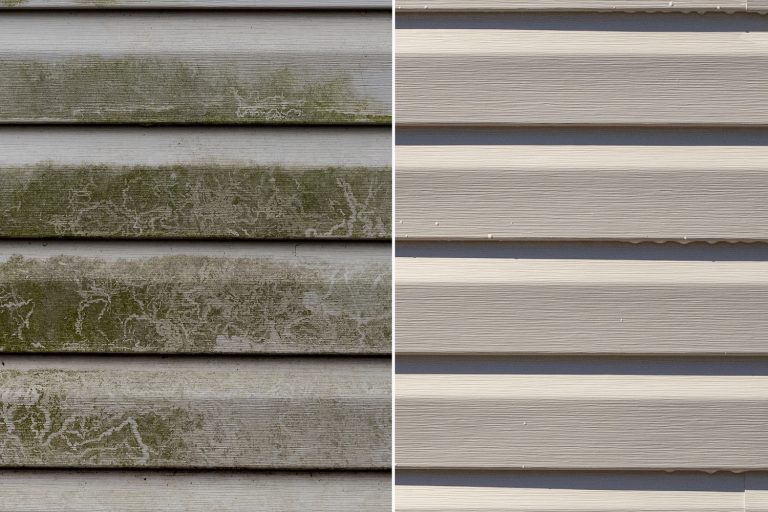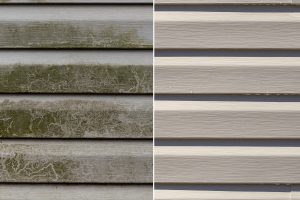 The siding on your home is constantly in contact with the elements, which can cause damage over time. A home's curb appeal can suffer as well as its interior health if the exterior is unclean. Nearly a third of buyers place the most value on the home's exterior, according to recent research. Now, remember the days of scrubbing your home's siding with just a brush and bucket of water? Today, pressure washers are here to stay, which is fortunate for all of us. When it comes to cleaning your vinyl siding, using a pressure washer may seem like a no-brainer, but by following the steps below, you'll be less exhausted and safe, and you'll be done in half the time. If your home is in need of a good cleaning, we're here to help. Keep reading to learn the benefits of siding cleaning and how to get the job done.
Using a SoftWasher to Clean Vinyl Siding
Maintaining your vinyl siding clean has never been easier or faster than with a pressure washer. When the vinyl siding is covered in mold and stains, this method works better. However, you should only have your siding pressure washed by professionals. Soft Washing can damage siding if done incorrectly. The siding can crack or dent if you apply too much pressure.  Soft Washing vinyl siding with planks on the surface is the best way to clean it. Soft Washing is the best method for cleaning this type of surface. Maintaining the proper water pressure and fanning to sufficiently cover the planks is critical once more. You only need to spray the water from left to right down the plank to get rid of all of the dirt and grime. Use a mild detergent to get the job done faster and more effectively.
In order to improve the overall appearance of a home, soft washing vinyl siding is a must. When you're thinking about selling your home, this is more critical. Using a pressure washer to clean your vinyl siding removes dirt and debris that could deter a potential buyer from making an offer on your home. Your vinyl siding can be protected from dirt, mildew, mold, and algae by using Soft Washing. They can also be harmful to the rest of your home. Vinyl siding Soft Washing not only keeps the surface clean, but it can also help prevent many harmful bacteria from growing on the vinyl siding surface.
How often should I have my vinyl siding Soft washed?
Vinyl siding doesn't require a lot of upkeep. Maintaining vinyl siding does not necessitate cleaning it on a monthly or even every six-monthly basis. Cleaning will have to be done more frequently on properties that are in dusty areas or where the siding is stained easily. Soft Washing vinyl siding once a year is a good rule of thumb. The siding can be pressure washed once every two years if it appears clean and free of mold or mildew, grime, or other debris. Moisture and other factors that promote mold and mildew growth can cause vinyl siding to need to be cleaned more frequently than in drier areas. Vinyl siding may need to be cleaned twice a year in some cases. While Soft Washing is safe and effective for some vinyl siding, it isn't suitable for all. Alternative cleaning and washing methods are explicitly recommended by some manufacturers.
Vinyl siding can be cleaned quickly and easily with Soft Washing. As a result of its effectiveness and reasonable price, Soft Washing has become extremely popular. To remove stains and mold, it is particularly useful. Soft Washing, on the other hand, has the potential to harm vinyl siding if done incorrectly. If the pressure is too great, the siding may crack. The vinyl siding on a building can also be damaged by improper installation angles or a large amount of water. Pressure washing vinyl siding is a job best left to the professionals.
Certain vinyl siding types should not be subjected to Soft Washing. Before deciding to use Soft Washing you may want to consult your manufacturer. If you follow the advice of a professional pressure washer, your siding won't be harmed. Don't defy the manufacturer's instructions, which could void the warranty. When cleaning vinyl siding, long-handled soft brushes or soft cloths are best for getting to all of the sidings. Vinyl siding can be cleaned effectively with nonabrasive cleaning agents that do not harm the vinyl. When it comes to mold and mildew, household cleaners like Fantastic or Windex can be used. You can make your own homemade cleaning solutions by mixing seven parts water with three parts vinegar, or by mixing one-third cup of powdered laundry detergent with two-thirds cup of powdered household cleaner, then adding one quart of liquid bleach and one gallon of water to the mix.
Cleaning Power Washing in the Best Conditions
It doesn't matter if it's 45 degrees and raining or 95 degrees and sunny; power washing can be done in any weather. Power washing results aren't affected by weather conditions other than when temperatures dip below freezing or when there is a thunderstorm. Technicians will either wait for extreme weather to pass or come back the next available day to complete the work.
WNC Wash Pros; Cullowee Siding Cleaning
What could possibly go wrong with a house that has a little dirt and moss? So… much is revealed. A buildup of dirt, moss, grime and other substances can cause corrosion on your building or outdoor items. Not only can they damage painted surfaces, but they can also damage the materials beneath them, such as vinyl siding or deck wood. When surface coatings and materials begin to degrade, they leave the rest of the structure vulnerable to damage as well. Moisture, vermin, and other intruders can get into the interior of your walls, resulting in structural issues and a great deal of discomfort for you and your family. The crevices in every building are also a breeding ground for dirt and other pollutants. It can take years for the grime to build up in crevices that are out of sight and out of the rain and wind's reach.
While it's great to have a clean, well-kept property, Soft Washing can do so much more. Besides protecting your property, keeping your family or employees safe, and saving you a ton of money, a security system is an excellent investment.
A good pressure wash isn't a luxury; it's an absolute necessity. Let WNC Wash Pros in Asheville, NC, handle your Soft Washing, and we're confident you'll be both surprised and satisfied with the results.