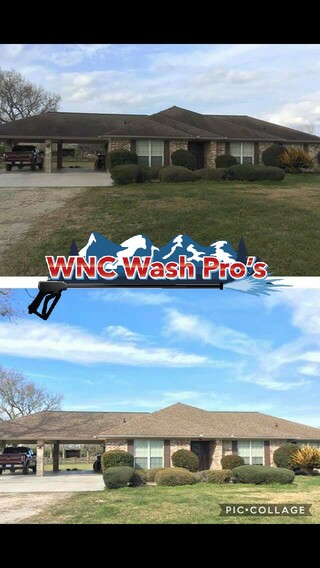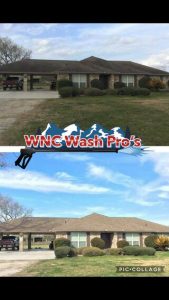 Hire a Professional for Roof Soft Washing
Your house's first line of defense against the weather is its roof. It's important to maintain it in good working order at all times to keep your family and possessions safe and to extend their useful life. The best approach to keep your roof looking new for as long as possible is to have a professional soft wash it. The shingles or tiles on your roof are more likely to last longer if they are cleaned by a professional soft washer. A roof's components get discolored over time due to the accumulation of debris, algae, mold, lichens, and mildew. They also obstruct the collecting of rainwater due to their presence in your roof's waterlines. Damage to your roof can occur if these materials are not monitored and cleared up in a timely manner. Protect your investment by having your roof soft washed by a professional.
Infestations of algae and mold can grow from your roof into your attic, causing problems for your cooling system. Your family and pets may suffer from health issues as a result. Because of this, they might cause the roof's structural integrity to deteriorating over time. Deteriorating roof shingles attract crawling insects and even small rats that enter your home through the accumulation of fallen leaves, dirt, twigs, and other items. Your utility rates will go up if your roof is in poor condition. A roof with algae and decaying shingles won't reflect the sun, for example. In order to reduce the temperature in your attic and house, a roof must reflect the sun's rays. Soft washing is a must, if not an absolute necessity, for this very reason. The buildup of the aforementioned components results in a roof that seems unclean, discolored, mossy, and neglected. To restore the roof's original clean appearance, all of these materials must be washed away. Selling your house will go a long way if you do this. It is important to your homeowner's insurance provider that your house be well cared for and maintained so that it can survive adverse weather conditions such as heavy rain and high winds. Remember that washing your roof might assist you in identifying any problems that need to be repaired as soon as possible that are not readily apparent. To avoid damaging the shingles, cleaning your roof should only be done by a professional. A professional soft cleaning service uses specialized pressure washers to ensure that your roof is not damaged. Contact WNC Wash Pros in Asheville immediately if you're thinking about soft washing your roof.
Why Soft Washing Is Vital For Roof Cleaning
People may be reluctant to get their roofs cleaned because it requires the use of a specific pressure washing machine. In order to properly clean a roof, you need only use qualified specialists who are familiar with the technique known as soft washing. Low water pressure and a more concentrated cleaning solution mix are used in soft washing to remove dirt and algae without damaging shingles. When you hire a professional pressure washing firm, you'll get a fresh, new-looking roof and prevent the costly damages that amateur cleaners may inflict on your roof. Maintaining a clean roof is critical, as is doing so in a manner that is as safe as possible.
Roof Cleaning Increases Your Home's Energy Efficiency
A shingle's ability to block out ultraviolet radiation is greatly reduced when it is covered in algal streaks and other filth. Your home's temperature rises as a result of the heat absorbed by the shingles because of the restriction caused by these undesired objects.
Keeping your shingles clean will protect them from being overexposed to ultraviolet radiation, which can be detrimental to them. The more heat your shingles reflect, the less your thermostat has to work to maintain a comfortable temperature. A clean roof contributes to more pleasant and energy-efficient home.
Roof Cleaning Extends The Lifespan Of Your Shingles
Shingle filth and debris can cause long-term damage, which should come as no surprise. These impurities weaken your roof's capacity to withstand the elements and degrade its structural integrity. Shingles can break down if these compounds are kept on them for an extended period of time, resulting in costly repair or replacement charges.
Remove these harmful compounds from your roof with a professional roof cleaning service to ensure that your roof will last for many years. Using a soft washer to clean the shingles on your roof helps keep them in good condition for years to come.
Roof Cleaning Maintains Your Property Value
Anyone taking a glance at your house will undoubtedly notice your roof due to its prominent placement. Your home's resale value is directly impacted by the condition of your roof. It's obvious that an algae- and dirt-covered roof will do little for your home's curb appeal.
The value of your home will be preserved or even increased if you get your roof professionally cleaned. If you want your house to look its best, make sure you have a well-maintained roof that won't need to be repaired for a long time.
Do Not Wait Too Long
If you neglect to remove moss and other debris from your roof, it will eventually lead to leaks, decay, and degradation. Soft washing the roof is a common preventative measure used by homeowners. However, pressure washing isn't always the greatest course of action and it might actually harm your roof in the wrong hands. Do not pressure wash a roof with a composition shingle. To avoid additional wear and tear, it's best to keep the shingles firmly pressed against the roof. Brushing off the moss is a more gentle way to get rid of the buildup. Soft cleaning will not harm your tile roof in the majority of cases. If you want it to become clean again, soft cleaning is your only alternative–except for brittle or outdated tiles, which could cause harm to your roof. Asheville NC tile roof cleaning services may inspect your roof to see if pressure washing is necessary, and if so, what your options are. Pressure washing will not be harmed by rain, even if it does affect some repairs and upkeep on roofs. You're already spraying your roof with a lot of pressurized water, so think of the rain as one more rinse. Isn't pressure washing as easy as it appears? Professional pressure washing of your roof is usually recommended for optimal results. Uneven brush strokes can leave zebra stripes or highlights on your roof if you don't hire an expert. To ensure an even, flawless finish, you should always use a professional. Contact us today at WNC Wash Pros located in Asheville, NC!